Blogs /
Introduction to Google Analytics 4
What is Google Analytics 4
In mid-October 2020, Google announced the fourth version of its Google Analytics platform; GA4. This is (unsurprisingly) the fourth major iteration of GA, and quite possibly the biggest change to Google Analytics since its launch around 15 years ago. 
It assures: 'smarter insights to improve your marketing decisions and get better ROI' as well as 'a more complete understanding of how customers interact with your business'. 
It also promises the ability to give intelligent insights by applying Google's advanced machine learning models. This means GA4 has the potential to automatically send alerts based on significant trends in your data – for example, a product in an inventory sees a rise in demand because of a new customer's needs. It even helps you anticipate future actions that your customer might take.
Exciting stuff indeed…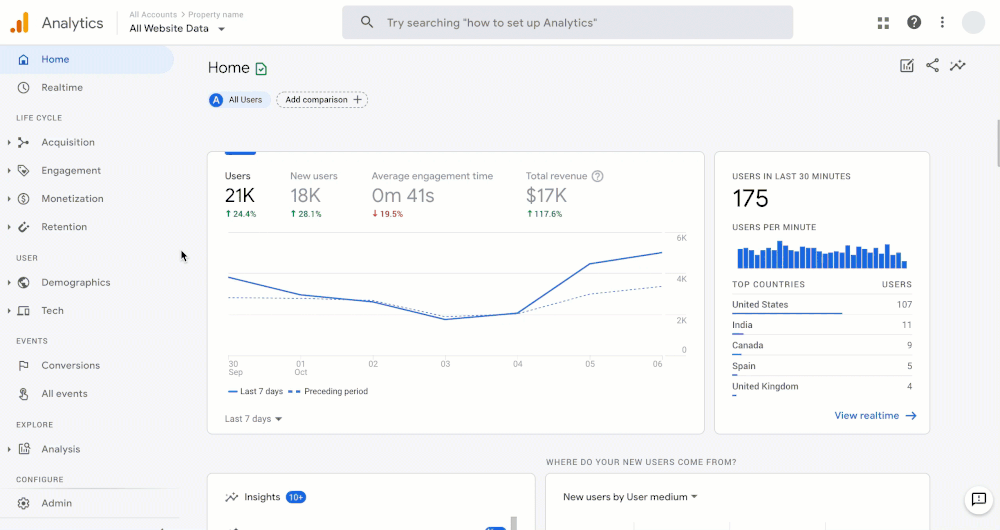 Why is Google Analytics so important?
At Yellow Peach, we use Google Analytics for insights when building conversion-driven websites. After all, a website is only as good as what it's trying to achieve; and the better you can understand a customer's experience, the better you can service the customer.
What do I need to do?
This is entirely up to you. 
If you have a new website or looking for web development in Somerset and haven't yet set it up with an analytics profile, it makes sense to go straight to the newer platform. In Google's own words: 
'The new Google Analytics is now the default experience for new properties and is where we're investing in future improvements'. 
However, when there's any major change to a software interface that users are familiar with, there's invariably some degree of a learning curve which can be a little frustrating. However, most daily GA users would probably agree that in recent years, it's got a little bloated (and therefore flawed) as many features have been 'tacked on'. GA4 looks to have considered many of these new (and recent) advanced features from the start and has been built much more holistically and therefore consolidated a solution to many of these issues. Google's statement also suggests:
'We know there are capabilities many marketers need before fully replacing their existing Analytics setup, so we encourage you to create a new Google Analytics 4 property (previously called an App + Web property) alongside your existing properties'.
This then means you'd have the best of both worlds, allowing you to start gathering data and benefitting from new features and innovations – as they become available, whilst keeping your current implementation intact. 
Image accreditation: Google Analytics announcement